The HOSA State Officers raised $160 for Operation Warm to support their commitment in offering a new winter coat to every elementary students in need in Delaware. The check was presented to Paul Daigle, Manager of Operation Warm.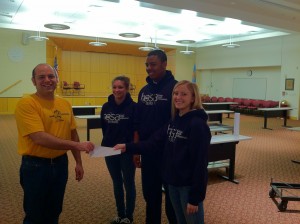 Delaware Challenge Detail
The mission at Operation Warm (OW) is to provide new winter coats for children who are in need.  Our Delaware Challenge is simple: provide new winter coats to every elementary school child living in poverty in the state of Delaware, which we estimate to be approximately 17,500 children .
The need: Why is there a need to provide coats? In 2010, there were 16.4 million children living in poverty in the United States.  While current estimates suggest 22% of all children live in poverty – some indicators suggest that number will go up to 25% in coming years.  In Delaware, 19% of children live in poverty (almost 1 in 5) and in Wilmington, 30% or almost 1 in 3 children live in poverty.
Necessity often dictates that food and shelter take precedence over clothing, leaving children, literally, in the cold. Providing coats serves a critical need and frees up precious dollars in tight family budgets to apply toward other necessary expenses. In addition, Delaware averages 98 days with temperatures below freezing. That is over three months of bitter cold. The potential for illnesses brought on by cold temperatures can be greatly reduced by giving a child a warm winter coat. In 2010, 8,820 coats were distributed in Delaware, about half of the total number of elementary school children living in poverty in Delaware.
The Strategy: As part of OW Delaware Challenge, we are involving local Delaware high school and college chapters as well as unpaid interns to help us develop a sustainable statewide program for fundraising and volunteer support.
For more information and resources for high school groups, please visit our Resource Page
For more information on interning as part of the Delaware Challenge, please e-mail Paul Daigle at [email protected]