DELAWARE STUDENTS EXCEL AT NATIONAL CAREER TECH CONFERENCES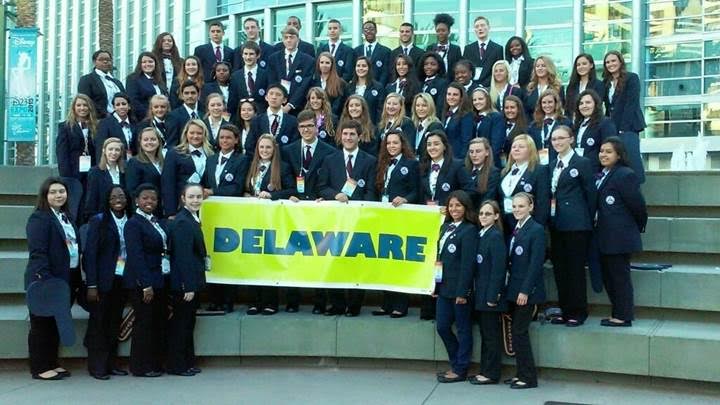 High-school students from across Delaware won top honors in three national Career and Technical Student Organization (CTSO) competitions this summer, demonstrating their dedication, leadership and skill in pursuit of future technical careers.
More than 320 students and advisors from throughout the state attended national conferences in Louisville, Dallas, and Anaheim last month. Thirty-seven student competitors and 18 school teams from Delaware earned Top 10 honors at these events.
At the 38th annual HOSA-Future Health Professionals National Leadership Conference in Anaheim, California, Delaware students represented the First State in competitive events that included medical math, physical therapy and nursing assisting.
Delaware HOSA is a Career and Technical Student Organization (CTSO) dedicated to students who are interested in pursuing their future in a career in healthcare.
The following students earned Top 10 HOSA honors:
| | | | |
| --- | --- | --- | --- |
| Place | Event | Name | School |
| 1 | Dental Terminology | Abigail Adams | Sussex Technical High School |
| 6 | Dental Terminology | Kaitlyn Neibert | Sussex Technical High School |
| 8 | Dental Terminology | Jennifer Linares | Sussex Technical High School |
| 1 | Health Career Display | Lauren Rentz | POLYTECH High School |
| 1 | Health Career Display | Lauren Lee | POLYTECH High School |
| 1 | Dental Science | Hiten Patel | Sussex Technical High School |
| 2 | Dental Science | Thomas (TJ) Pinto | Sussex Technical High School |
| 10 | Emergency Medical Technician | Shawna Killen | St. Georges Technical HS |
| 10 | Emergency Medical Technician | Jazlyn Washington | St. Georges Technical HS |
| 8 | Nursing Assisting | Renee Adams | Sussex Technical High School |