PAST EVENTS

Tenth Annual Washington Leadership Academy September 17 – 20, 2016
Delaware HOSA-Future Health Professionals state officers attended the Washington Leadership Academy to learn and develop leadership skills from national, state officers, and guest speakers from around the country.
2016 Rare Disease Day
Congratulations to the following schools (in alphabetical order) who placed in the Top 3 for this competitive event. They have all been invited to attend the final day of our State Conference where the winner will be announced.
Conrad School of Sciences
Delcastle High School
Hodgson Vo-Tech HS
Middle School Conference
Central Middle School Chapter of Delaware HOSA, Future Health Professionals hosted the second annual middle school conference on March 10th. The CMS HOSA students competed in Health Career Display, Health Education, and Medical Terminology events. We are very excited that, new this year, all of the winners qualify to participate in the International HOSA competition in Nashville, TN in June 2016. This is the first year National HOSA is including Middle School in the ILC.

Applebee's Pancake Breakfast
The DE HOSA State Officers participated in the second annual Applebee's Pancake Breakfast on April 12, 2014. Over seventy people attended the breakfast to support DE HOSA future health professionals! Breakfast included pancakes, sausage, scrambled eggs, coffee, and juice. Thank you to those who came out to support the student organization and for showing some HOSA Spirit!
DE HOSA Origami Owl Fundraiser
DE HOSA hosted another Origami Owl Fundraiser as part of the 2014 State Leadership Conference. Thank you for helping raise funds to support the career and technical student organization HOSA– Future Health Professionals! 15% of all sales went towards Delaware HOSA!
2014 HOSA State Leadership Conference
The 2014 HOSA State Leadership Conference took place in March 2014. The conference was held over the course of six days at the Delaware State Fire School and the last day at Delaware State University. For more details please view the Competitive Events Schedule. Three new events were added this year; Medical Photography, Medical Reading, and Dental Terminology. Also new this year was the HOSA Spirit Award which was presented to St. Georges Technical High School that showed the most HOSA spirit through fundraising, HOSA events, and community service.
3/18/2014 Round One State Leadership Conference TOP EIGHT RESULTS
3/19/2014 Round One State Leadership Conference TOP EIGHT RESULTS

Happy Valentine's Day from Conrad Schools of Science
HOSA members at Conrad Schools of Science in Wilmington, DE celebrated the love holiday by hosting a fundraiser to support the health science student organization. Fuzzy teddy bears holding cut out hearts were sold throughout the school to promote HOSA while incorporating the sweet holiday theme.

Delaware CAN- Sussex Tech
Sussex Technical High School did a school wide event where students, staff, and administrators contributed boxes, cans and food products for the Delaware CAN competition. The event was a month long exhibition and altogether they raised over 700 in just cans alone. All food donations were contributed to the Delaware Food Bank.

2013 Fall Leadership Conference
Delaware HOSA State Officers and HOSA members attended the 2013 Fall Leadership Conference on November 18, 2013. HOSA members joined FCCLA and TSA students to build leadership skills while having fun at the Delaware State Fairgrounds in Harrington for the day.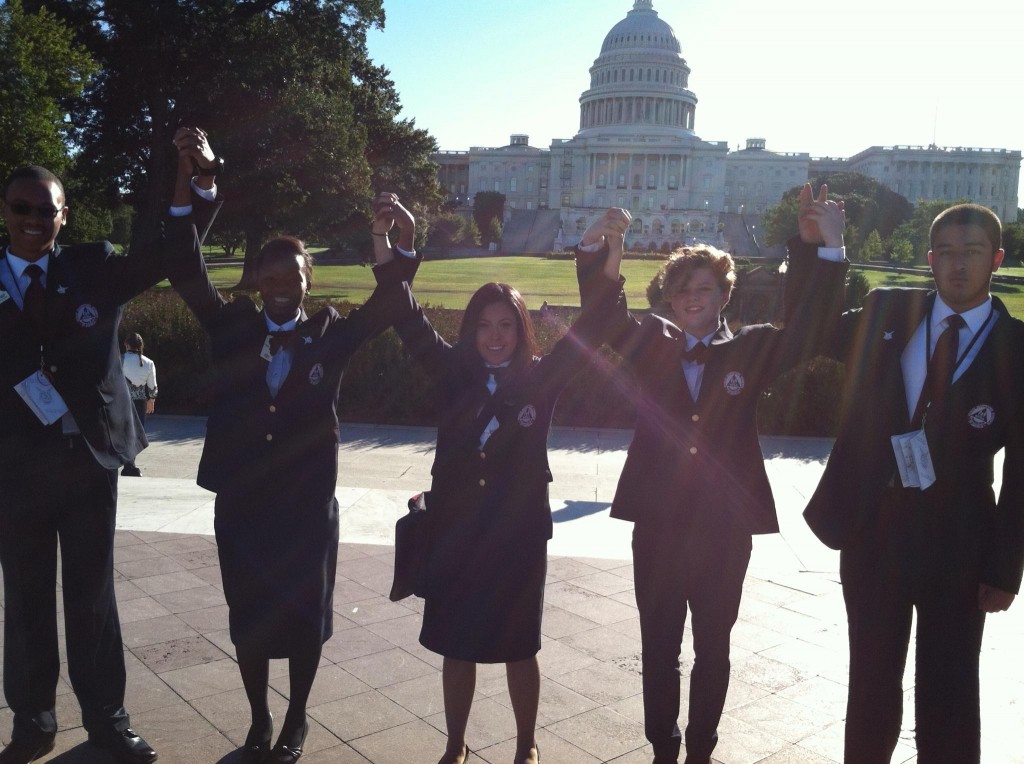 2013 Washington Leadership Academy
Delaware HOSA State Officers had a tremendous opportunity to attend the Washington Leadership Academy (WLA) in Washington, D.C. on September 21st -24th. The officers learned more about "Thy Self," "Thy Nation," and "Thy Industry." With these newly acquired skills, the officers visited the offices of Senator Carper, Congressman Carney, and Senator Coons to advocate for Career and Technical Education (CTE) and Career and Technical Student Organizations (CTSO) such as HOSA-Future Health Professionals. Read more about the HOSA State Officers…