2017-2018 State Officer Team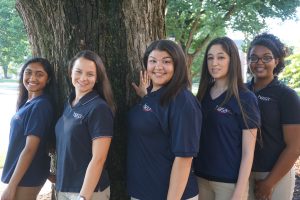 We are happy to announce the following students have been selected as the 2017-2018 Delaware HOSA State Officers. Congratulations to these hard working students! Pictured from left to right:
Silpa Annavarapu: Newark Charter School
Katherine Amman: Conrad Schools of Science
Kaitlyn McKinney: Seaford High School
Yasmine Awayes: Polytech High School
Sinit Abraham: William Penn High School
Specific officer positions will be announced following the completion of summer training in August.
Congratulations to Delaware HOSA members placing in the top 10 of their competitive event at the HOSA International Leadership Conference in Orlando, Florida!
Prepared Speaking
Caroline Kelly*
*Gold Medalist
Newark Charter School
Biomedical Laboratory Science
Joanne Lord
St. Georges
Job Seeking Skills
Jonathan Lee
Sussex Tech
Medical Law and Ethics
Brianna Martinez
St. Georges
Physical Therapy
Tia Persolio
Sussex Tech
Health Career Display
Knapp; Cashion
Central Middle School
Health Education
Anyanwu, Crowe
Central Middle School

More than 100 students and advisors traveled to Orlando, Florida June 21- 24, 2017 for the HOSA International Leadership Conference.