Delaware HOSA- Future Health Professionals
2017 State Leadership Conference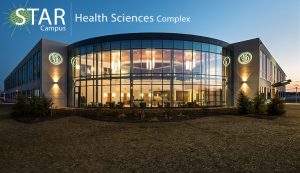 The Delaware HOSA – Future Health Professionals State Leadership Conference (SLC), is scheduled for March 27 – 31, 2017 at the University of Delaware STAR Campus in Newark. Registration for competitive events is open February 1 – 27, 2017. To register, local advisors must login to the National HOSA Conference Management System. Prior to conference registration, students must be affiliated with National HOSA as an active HOSA member. The most recent competitive events schedule is available on the downloads page. Please be sure to read and understand the competitive event schedule for dates and locations. For registration difficulties, please contact Corinne Stayton.
Location: University of Delaware, STAR Health Sciences Complex
Address: 540 S College Ave, Newark, DE 19713
Website: http://chs.udel.edu/star/
Congratulations to all the HOSA students who participated in the State Leadership Conference. The top three competitors from each event at the State Leadership Conference are eligible to attend the International Leadership Conference in Orlando, Florida. In addition to competitive events, HOSA students help promote community partnerships. Please click below to see the students and faculty recognized for their efforts.